KIDS ON RECORD
(An excerpt of an article first developed for Threeminutereveries.com)
One of the first child stars of the rock and roll era was "Little Miss Dynamite," Brenda Lee. Born Brenda May Tarpley in 1944 in Lithonia, Georgia, Lee hit the ground rockin' at age 12 with hits like "Dynamite," "Bigelow 6-2000" and the great "Sweet Nuthin's." The massive, adult voice that burst out of the tiny girl (Lee would only grow to be 4' 9" as an adult) took the nation by storm, and Brenda Lee was one of the few child singers of her era to sustain a long, successful career in rock 'n' roll and country music.
Frankie Lyman, lead singer of the Teenagers, was the first black teen idol. When the group hit the charts in 1955 with the immortal "Why Do Fools Fall in Love?," the 13-year-old Lyman became a national sensation. An undeniably cute kid with a powerful voice and carloads of charisma and stage presence, Lyman's popularity helped propel the group onto the charts several times, and his showmanship landed the Teenagers roles in such films as "Rock, Rock, Rock" and "Mister Rock and Roll."

In one of the Teenagers' big hits, Frankie Lyman sang "I Am Not a Juvenile Delinquent." Sadly, this was not really the case. Frankie began using drugs in the late 1950's while still too young to shave. By 1961, when he was only 19, Lyman entered drug rehabilitation at Manhattan General Hospital. One of his wives (he was apparently married to three different women simultaneously) prostituted herself to pay his rehab bills. By 1964, at age 22, he was convicted on a narcotics charge.

Lyman was on leave from the US Army in 1968, when he overdosed on Heroin at his grandmother's home, dying in her bathroom.
The Collins Kids, Larry and Lorrie, were youngsters from Oklahoma who struck gold in California as regulars on Tex Ritter's "Town Hall Party" TV show. Their country / rockabilly recordings, such as "Hoy, Hoy" and "Hop, Skip and Jump," were aimed at the kiddies, but their jumping style has proven good enough to attract collectors of the finest early rock 'n' roll for decades.

Larry Collins, only eight years old at the group's outset, would quicky become the star pupil of country super-picker Joe Maphis. Lorrie, at age 10, was a capable and confident singer. Together, they were able to embody their music with an infectious enthusiasm and professionalism beyond their scant years. As cute as they were, and as cutesy as they played it sometimes, the Collins Kids made no bones about the fact that they were here to rock the house and rock the house well.

In their day, the Collins Kids were known primarily as TV stars. They appeared on every episode of "Town Hall Party" from 1952 to 1954, and on the 39 episodes of "Ranch Party," a 30-minute version of "Town Hall Party" filmed by Screen Gems in 1954. They signed a recording contract with Columbia Records in 1955, but were far more successful in scoring high profile television appearances than in garnering hit records or radio airplay.

The pinnacle of the Collins Kids' TV fame came in 1958, when the then 16-year-old Lorrie appeared on the top-rated "The Adventures of Ozzie and Harriet." She played Ricky Nelson's girfriend - a role she had been playing in real life for some time. Lorrie and Ricky sang a duet, "You Are My One and Only Love," officially making their relationship public and paving the way for what everyone assumed would be a high profile engagement and marriage.

But Ricky Nelson would not stay Lorrie's "One and Only Love" for long. In 1959, the Collins Kids went on the road with Johnny Cash. Lorrie began a courtship with Cash's manager, Stu Carnell. Despite a considerable age difference (at least 19 years) the two were married. Ricky Nelson was unaware of Lorrie's romance when he read about her wedding in a show business trade paper.

The Collins Kids' career ground to a halt amidst family strife regarding Lorrie's elopement. When they re-emerged a few months later, with Carnell as their manager, much ot their momentum had been lost. Larry's voice had begun to change, and Lorrie no longer a cute kid, but a teenage bride. The Kids cut a few sides between 1959 and 1961 which, although they constituted some of the pair's best and most mature work, went nowhere. When Lorrie became pregnant with her first child, the Collins Kids came to an end.

Larry went on to become a successful PGA golfer and songwriter. In 1972, he co-wrote "Delta Dawn," a huge hit for fellow child star, Tanya Tucker. Nine years later, he scored an even greater success as the co-author of David Frizzell and Shelly West's big hit, "You're the Reason God Made Oklahoma."


LITTLE BITS OF SOUL
One of the most exciting Soul performers ever was "The 12-Year-Old Genius," Stevie Wonder. Born Steveland Hardaway Judkins in Saganaw, Michigan in 1950, Stevie was blinded early in life by the adverse effects of excessive oxygen treatments administered at his premature birth. Stevie was musically inclined from an early age, and auditioned for Berry Gordy at age eleven. By age twelve, he had recorded three albums, one of which, THE TWELVE YEAR OLD GENIUS, was Motown's first number one album.
The success of Little Stevie, followed by that of the Jackson Five, must have led some parents to hope their little soul man might be the next funk sensation. Hence albums such as PSYCHEDELIC SOUNDS by Jr and His Soulettes, a surprisingly proficient brother-sister kiddie combo, and GHETTO REALITY, a collection of streetwise soul struts by New York school children.
Show and Tell Music's JR AND HIS SOULETTES page
Show and Tell Music's GHETTO REALITY page
MSN.com's GHETTO REALITY MP3 page
FAMILY GROUPS
BABIES ON RECORD
Buzz Clifford's "Baby Sittin' Boogie" is a rockin' little novelty hit from the early 1960's. The song, about a rockabilly baby who can't get enough of that freaky beat, is punctuated with recordings of an actual baby singing and giggling.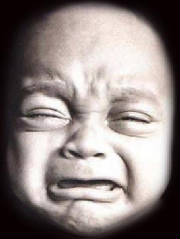 An altogether less charming instance of a baby on a record can be found on Molly O'Day's ancient recording of "Don't Sell Daddy Any More Whiskey." The song is an evangelical tearjerker concerning a little boy who goes to a bar to beg the owner not to serve alcohol to his drunken, abusive father. All through the song, the listener is jarred by the shrill, agonized cries of an infant, symbolizing the tears cried by the wretched, starving family. At several points in the old mono recording, the cry is so loud that it obscures both the singer and the band. It is the most horrific sound that I think I have ever heard on record, and pushes so many instinctive buttons in anyone who I've sprung it on at record parties that there are more than a few people I know who refuse to ever listen to it again. It's hard for me to listen to, and I love the song!

Since "Don't Sell Daddy..." was recorded in the 1930's or 40's, most likely cut live to disc in a studio in Louisville, KY, I have to wonder - is the baby's cry a recording the band played along with, or was there an actual baby crying in the studio while the band played? How did they make the baby cry?

The disturbing cries of children can also be found on later records, such as Alice Cooper's infamous "Dead Babies" and "The Children," from Lou Reed's album, BERLIN. The Lou Reed record is particularly eerie, as the children keep crying on and on and on as the song fades out. The lyrics explain that "The Children" are being taken away from their negligent mother, and they certainly sound like frightened children being forcibly separated from their only parent. Turns out that they are, in real life, the children of producer, Bob Ezrin, and that their tortured screams are from a recording he made one night of the tearful chaos that regularly ensued upon the children's bedtime.


CHILDREN'S CHOIRS
Elementary school choirs have been putting out albums for decades. Perhaps the most famous of these has become INNOCENCE AND DESPAIR by the Langley Schools Music Project, a sixty voice choir from a rural, Canadian elementary school. Recorded during the 1976-77 school year, the album finds the kids tackling well-known songs by the Beach Boys, David Bowie, Wings, and others. The Project's version of the Eagles' "Desperado," performed by nine-year-old Sheila Behman, is one of the most heartbreaking things you'll ever hear.
The Langley Schools Music Project
Pink Floyd famously used a choir of children from a London grade school on their international hit, "Another Brick in the Wall Part 2." Many of these children would later go on to sue the group for unpaid royalties years later (see link below.)
"We All Need Some Compensation: Kids on 70's Pink Floyd Song in Royalties Battle."
Click here for an MP3 of Yo La Tengo's Childrens' Choir version of Sun Ra's "Nuclear War" - but be warned: the kids use a REALLY wordy durd
Click here for a run-down of children's choirs on other rock records
INFANT PUNKS
Does anybody really want to remember Old Skull, the pre-teen punk band of the late eighties? Clear evidence that punk rock had already become a mere novelty genre long before Rancid, Green Day and company.

Intensified Chaos, a California hardcore band of the early 1980's, used a child vocalist on their song, "Intensified Chaos" from the NOT SO QUIET ON THE WESTERN FRONT compilation. The kid, a pint-size Johnny Rotten who sounds all of five years old, shouts "Punk's not dead, no it's not!!!" over and over again along with a savage hardcore band.

The Trashwomen pull a similar stunt on their TRASHWOMEN VS DEEP SPACE LP, with a little girl shrieking over a blistering surf-punk track, only to sheepishly ask, "do I have to do it again?" at song's end.

Guitarist Valor of Christian Death features his five year old son as vocalist on his awful band's charmlessly obscene "I Hate You" single. Back at you, you rude little twerp!
Another kiddie punk group was the Rolling Scabs (MP3)
COUNTRY KIDS
The granddaddy of all country music child stars was Little Jimmie Sizemore, a radio celebrity during the Great Depression. Little Jimmie's act grew from his father, country singer Asher Sizemore's, radio show on WCKY in Cincinnati. Singing mountain ballads and children's songs, such as the popular "Chawing Gum" and "Booger Bear," Jimmy quickly became the star of the program and, as the show spread to the powerful WHAS radio in Louisville, KY, a celebrity throughout the Midwest and Southern United States. In 1933, Jimmie became a member of the Grand Ole Opry at the age of only five years old, and was featured regularly on broadcasts from WSM in Nashville. Asher Sizemore claimed that his son could sing at least 200 songs from memory, and the wide array of material the pair performed on their programs is evidence that the child was receiving a banner education in Appalachian music and old standards from his father. Asher and Jimmie would debut their renditions of several songs each week, collecting many of them in song books Asher would advertise on the show. Although Little Jimmie was known primarily as a radio star, he did have a hit record in 1934 with "Little Jimmie's Goodbye to Jimmie Rodgers," and transcription discs of his shows have been extant since the 1930's. Decca issued an album of broadcast excerpts, MOUNTAIN BALLADS AND OLD HYMNS in 1966. In 1984, County issued the more easily obtained SONGS OF THE SOIL .
George Jones and Tammy Wynette may have had Little Jimmie in mind when they launched the recording career of their tiny daughter, Tina Wynette. A 1974 single, "The Telephone Call" - one side is credited to "Tina and Mommy," the other to "Tina and Daddy " - tells a light-hearted, dramatized account of marital strife caused by a telephone message, misdelivered by a child. The fact that little Tina was so small that she could barely deliver her lines clearly makes the record a true "classic."
The string band tradition at the heart of all country music was, for decades, a family tradition. Many of the early string bands to hit record in the 1920's were family bands who often included small children as singers, and even instrumentalists. This was carried on far into the post-war era through Bluegrass bands, such as Reno and Smiley, who featured 10-year-old mandolin player Ronnie Reno.


A contemporary example of this is the Larkin Family of eastern Tennessee. A fixture of Bluegrass festivals throughout the mid-90's, the group was a five piece combo of father, mother and three adolescent daughters. When the girls took to the stage in their babydoll dresses, clutching instruments that seemed nearly as big as they were, a lot of people must have thought the group was another novelty act where talented parents would cover for their less than talented, cutie pie children. What a surprise, then, when the band began playing and it became clear that the children were actually far more proficient on their instruments than their parents were.
More Child Performers (Links)