Upon reading my recent gushing over the hated TALES FROM TOPOGRAPHIC OCEANS (ETCHED IN BLACK, March 2008 - see the archive,) a few of my more "punk rock" readers and friends expressed fear that I was going soft. The term, "candyass" might have even been carelessly tossed about at some point. Thus, to reclaim the mantle of my manhood, I've decided to turn my back on fey Progressive Rock for the month and concentrate on my first love - REGRESSIVE ROCK - or TROG ROCK, if you will. This month, let's celebrate those records that bypass the brain and head straight for that Southern juncture of the thighs where all the real decision-making takes place.
The Edgar Broughton Band - Hairsute Emperors of the Ooga Booga Vortex
The Legendary Stardust Cowboy - "Paralyzed" (1968)
The spiritual linchpin of the trog rock aesthetic is the Legendary Stardust Cowboy, who released the single "Paralyzed" in 1968. A record that Wikipedia accurately describes as "unintelligible snarls, growls, and similar vocalisms, surrounded by frantic strumming on acoustic guitar...equally frantic drumming, and occasional yelps of what sounds like the song's title," the tune is, along with AN EVENING WITH WILDMAN FISCHER and "A Blind Man's Penis," one of the truly great moments in outsider music. Its echoes can be heard in the work of such luminaries as David Bowie, the No Neck Blues Band and Burzum, and it is inconceivable that such contemporary genres as black metal, noise rock or grindcore would exist without "the Ledge's" trailblazing.
The Sewer Rats - "Louie Louie" 7" single (1966)
Ostensibly a cover of the Sonic's version of this chestnut, the Sewer Rats' version of "Louie Louie" heads out towards Planet Wild at warp factor ten, courtesy of the dirtiest guitar distortion heard on any garage record from the sixties and a vocalist who literally sounds like a cat being skinned alive with a potato peeler.
Gallhammer - "Blind My Eyes" from ILL INNOCENCE CD (2007:)
The Japanese girl group, Gallhammer, is supposed to be a black metal band - but the black metal tag only encompasses a small part of their sound and hints at none of what makes the group so interesting. "Blind My Eyes," from the trio's latest album, is cavegirl-perfect trog rock. The whole song is practically a single riff adapted from Motley Crue's "Looks That Kill" repeated over and over and over and over again, only played nastier than the Crue ever played it. Twin vocalists - one all death metal gruff, the other Japanese schoolgirl cute - shout at one another over the din as if Astro from the Jetsons and Strawberry Shortcake have formed a band and are arguing over what key the song is supposed be in. Or maybe the Antichrist's mother recorded him singing a duet with a squeaky bath toy when he was five.
David Bowie - ALADDIN SANE LP (1973)
Bowie's last album with the original Spiders from Mars has its share of softer material, but the tracks where the band really tears loose - "Jean Genie," "Let's Spend the Night Together" and (especially) "Cracked Actor" are among the grimiest rawk songs in the Bowie canon. "Cracked Actor," in particular, is Bowie's greatest metal tune. Not metal as in "Heavy metal," but metal as in "rusty metal." Dig the scree as Mick Ronson's guitar scrapes the greasey residue off the bottom of the musical scale and flings it all over the rhythm section's pretty platform shoes.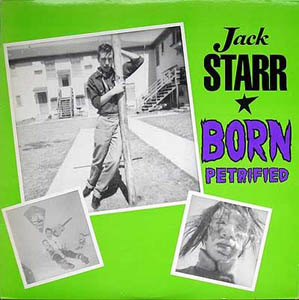 Jack Starr - PETRIFIED LP (released 1988, recorded throughout the early 1960's)
Spastic rockabilly recorded in a bathtub at Starr's mother's house. Some of the wildest stuff anyone has ever heard. In one gorgeous moment, Starr actually stops playing, mid-song, to scream at his mother for trying to come into the bathroom while he's recording. So much for that "fourth wall."
Pussy Galore: "Yu Gung" 12" Single (1987:)
Back in the 1980's, PG was construed as some sort of high art pisstake on the Rolling Stones. Fact is, the band just wasn't that good in a conventional rock context, but were able to more than compensate for their lack of conventional chops by creating their own, noisey musical language. This one is a cover of Einstürzende Neubauten's big hit, this is set up like one of those 12" hip hop remixes, only with PG playing all the sample bits themselves. Quotes everything from the Stooges to "Chicken Run," at such a blinding rate that even the band gets lost a couple times. If you had twelve really cool rock stations in your town and put your car stereo (the one with the busted tweeter and no bass control,) on scan mode, it would sound a lot like this.
John Uzonyi's Peacepipe - "Bikers Tune" from PEACEPIPE LP (1970)
Wailing ultimate caveman with fuzz pedal classic from 1970. Imagine Davie Allen's already heavy biker flick soundtrack music drowning in ocean of liquid heroin and amplifier howl.
The Phantom - "Love Me" (1958:)
It's that scream, that strangled cry of rockabilly bloodlust that gets me every time! I once read an old psychology book that attributed the affected, shuttering quality of Elvis's singing to "repressed sexual tension." God, I wonder what Herr Doktor Freud would have made of the Phantom, who sputters and gasps with unrealized yearning, bringing the band to dead halts, as if he is afraid what might "come up" if he dares continue. No wonder the guy wore a mask!
The Monks - BLACK MONK TIME LP (1966)
Legendary work of genius by American servicemen stationed in Germany during the height of the Beat Scene. If the Doors had descended from a tribe of spastic pygmies from Mars, they would have sounded just like the Monks. Singer Gary Burger rants at the top of his lungs like Napoleon XIV (of "They're Coming to Take Me Away Ha Haaa!" fame) The keyboardist plays like the organ's trying to run away from him, while the thunderous rhythm section holds on to that thumping oom-pa-oom-pa beat for dear life. A mean ol' holler that few other bands could deliver without risking blurred vision and/or loss of consciousness.

Ninnixu - THE COLLECTION CDR (2008)
Filthy black metal from the putrid pits of Boston, Mass. A complete sonic mess. So poorly produced, the only instrument you can really hear is the bass, although what might be a leafblower and blender full of raw meat seem to emerge from the muck the more times you listen. The vocalist, who resides in the mix a few levels below the leaf blower, sounds like a crack-crazed monkey with his feet on fire locked in a dog carrier. Song titles suggest the lyrics to be the usual profane blasphemies, but this guy could be reading a phonebook in Belgian for all you'll know. Simply beautiful.
Nirvana - IN UTERO LP (1993)
While most hit bands would have attempted to replicate their big moment on their next record, Nirvana followed their multi-mega-platinum NEVERMIND with a collection of live-in-the-studio sessions recorded with a broken guitar amp. While that's not quite what was eventually released, there is enough of that rawness still present on IN UTERO that it qualifies as a cave man classic.An altogether darker affair than NEVERMIND had been, IN UTERO alternates the expected grunge-pop with astoundingly pissed-off "songs" that throb and pound with unabashed, knuckle-dragging fury. Kurt Cobain spends at least half the album screaming like a baby in a Skinner Box, and the band as a whole works hard to deliver the "unlistenable punk rock nightmare" Cobain promised in pre-album interviews.
Radiation Sickness - "Undulating Flaps" from BOUNDS OF REALITY 7" EP (1987)
This dittie warrants inclusion for its title alone! Teenagers from Indiana sounding...well...like teenagers from Indiana sounded like twenty years ago, back when metal/punk "crossover" was still the rage. Grover and his Sesame Street friends lament the unwanted attentions of an over-enthusiastic, overweight suitor.
Yoko Ono - PLASTIC ONO BAND LP (1970)
Few people can say they have belonged to a seminal band that actually changed rock and roll. John Lennon and Ringo Starr have both belonged to two such groups: The Beatles and the Plastic Ono Band. Initially a loose aggregate of whoever John Lennon happened to be playing with at a given time, the Plastic Ono band had solidified, by late 1970, into a core group of Lennon, Starr, and bassist Klaus Voorman. This group recorded only two albums, both called PLASTIC ONO BAND, one credited to John, the other to Yoko. While John's LP is a collection of traditional rock songs recorded in the standard fashion of the day, Yoko's album featured all improvised material culled from a single, marathon jam session which was later edited and produced by Phil Spector.

Although famous as a hi-art debutante, Yoko found herself at the helm of a massive rock and roll engine during the monsterous jam that was the PLASTIC ONO BAND session. She performed admirably, her trademark avant garde howl spiraling around John's super-distorted, ultra-pissed off guitar clatter like a bat with its ass on fire. Six years before the Sex Pistols, Yoko and the boys were already post punk, whipping up a convulsive, art rock racket the likes of which would not become common currency until bands like Birthday Party would make it so at least a decade later.
Just because Yoko Ono ate Paul McCartney alive and used George Harrison's pelt as a rain tarp does not mean she is responsible for the break up of the Beatles.
The Velvet Underground - WHITE LIGHT WHITE HEAT LP (1968)
While the first album was art school bohemian, the second record from the VU was fuzzed-out, prehistoric grunt. Still avant garde, but avant garde circa 10,000,000 B.C.
NASHVILLE PUSSY - "Perfect, not a braincell to spare..."
The Groupies - "Primitive" Oh, really?
THE 2008 DERBY NIGHT RECORD PARTY
Derby Night in New Albany, Indiana witnessed a top secret gathering of record collectors in the secure, underground bunker that lies deep beneath the Thunderbolt Pagoda. Brought together to drink good Kentucky bourbon and listen to fine music were record spinners whose names strike fear in the hearts of the average Disc Jockey Records shopper:

Andy - He Who Dwells in Smooth Sounds

Crystal - The Multi-faceted

Glen - Keeper of the Gate of Memories

Tom - Guardian of the Psychozoic Flame

Zach - Master of the Now Sound
...and here is what was played...
BAD RECORDS
(Everyone was instructed to begin the rotation with a bad record - one they were sure everyone else would hate.)
Andy: "Sister Christian" by Night Ranger (Predictably, since all of us grew up in the 1980's, almost everyone in the room still likes this song.)

Glen: "I Wanna Hold Your Gland" by Drunk John Lennon (Atrocious!!! Five Stars!!!)

Tom: "Sing Unto Him" by the Jackson Brothers. (Hideous kiddie gospel.)

Crystal: Some utterly repugnant Michael Bolton single.

Zach: "Love Hurts" by Nazareth (Again, the room was divided on this one, but Zach made a very good argument for the badness of this record by hanging around its neck the albatross of the power ballad trend it may have ultimately spawned)
THE "FOR REAL" ROTATION
Andy: "Keep Feeling Fascination" by the Human League

Tom: "In the City" by The Jam

Glen: "Chasing Heather Crazy" by Guided by Voices

Crystal: "Boys Don't Cry" by The Cure

Zach: "Rockers to Swallow" by the Yeah Yeah Yeahs

A: "Touch the Hand" by Conway Twitty

T: "When the Tear Becomes the Rose" by Keith Whitley and Lorrie Morgan

G: "Nothing Comes Close" by Dill Lloyd

C: "Superstition" by Beck, Bogart and Appice

Z: "Daughter of the Everglades" by Rory Gallagher

A: "God Bless the Child" by Steve Miller

T: "Shoot Out the Lights" by Richard and Linda Thompson

G: "You Are Everything" - by the Stylistics

C: "Break It to Me Gently" by Juice Newton

Z: "Bad Reputation" by Joan Jett and the Blackhearts

A: "On Broadway" - George Benson

T: "Am I Black Enough For You" by Billie Paul

G: "I Got a Crush on You" by Frank Sinatra

C: "Do You Know How it Feels?" by the Flying Burrito Bros.

Z: "I've Been Loving You Too Long" - Otis Redding

A: "If Teardrops Were Pennies" - Porter Waggoner and Dolly Parton

T: "Slip Inside This House" by the Thirteenth Floor Elevators

G: "Wit and Wisdom" by Husker Du

C: "Breakout" by Swing out Sister

Z: "Horseman" by the Bees

A: "The Greatest Adventure" by Glen Yarborough

T: "Wait for the Black Out" by The Damned

G: "In Your Eyes" by The Shoes

C: "I Love A Rainy Night" by Eddie Rabbit

Z: "I'm Falling In Love With Myself Again" by Sparks

A: "Brazilian Tapestry" by Astrid Gilberto

T: "And I Love Her" by Gary McFarland

G: "Sunday Morning" by the Velvet Underground

C: "Imperial" by Unrest

Z: "That Feeling" by El Perro Del Mar

A: "I'm On Fire" by Bruce Springsteen

T: "Girls Don't Know" by Gruppo Sportivo

G: "Destination Unknown" by Missing Persons

C: "Somebody I used to Know by Elliot Smith

Z: "Honey Honey" by Feist

A: "Airwaves" by Thomas Dolby

T: "Over and Over" by Fleetwood Mac

G: "Run For the Roses" by Dan Fogelberg

C: "So Far Away" by Carol King

Z: "He Needs Me" by Shelly Duvall as Olive Oyl


Thanks to all who attended for a great Derby Night!!! It was a lot of fun, and many great tunes were played (well, for the most part - Michael Bolton - sheesh!!!.) You are the DJs who rock my world, and, as long as I'm around, Ozzy is not the only one who loves you all!
LADIES AND GENTLEMEN, THE HOLY FREAKIN' GRAIL!!!




Don Bradshaw-Leather: THE DISTANCE BETWEEN US dbl-LP (Distance 1972)
This 1972 classic is the kind of album this site was created to showcase in the first place! An almost completely unknown, private press, double album with bizarre cover art and avant - strangeoid music that doesn't let up. Looking for intense, rumbling piano compositions, accented with long interludes of quasi-tribal drumming, barely audible vocals and spooky mellotron, recorded in glorious, boom-box quality lo-fi? Here they are, brother, in spades!

Don Bradshaw-Leather is either the dubiously adjusted individual on the cover (most likely,) or (allegedly) the collective nom de plume of some sort of occult group. Whatever the case, there is precious little info out there. Although the artist presently has his (their?) own myspace page, it's not really clear that anyone actually involved in the recording of this masterpiece has anything to do with that page (see link below.) There is a longstanding rumor that Bradshaw was actually a member of British prog rock band Barclay James Harvest, but this is unlikey. Don Bradshaw-Leather seems lost to the ages.

Even if Bradshaw-Leather himself were not such an enigma, this album would still be the stuff of legend, based on its musical merits, alone. Obtuse and demanding from the outset, the album starts off in full-on, Cecil Taylor, mathematical piano destruction mode and maintains that insane level of intensity for four entire LP sides. There are no ballads, there are barely any calm interludes at all - only four sides of tense, difficult music. Imagine a black metal piano bar in Hell and you're beginning to grasp the Don Bradshaw-Leather aesthetic.

I like to think that "The Distance Between Us, Part 1," an instrumental that takes up all of side one, tells the story of Pencil Pete, an avant garde pianist made out of graphite who finds himself beset by angry Zulus. The enraged warriors interrupt Pete's playing to rattle their spears and beat their war drums while their witchdoctor tries to intimidate Pencil Pete with his spooky mellotron playing. The wizard's sinister gambit pays off and Pete flees into the woods with the Zulus at his heels. When all seems lost, Jon Lord from Deep Purple comes to the rescue, using his mighty Hammond organ riffs to deflect native spears the same way Ted Nugent's guitar solo deflected bullets in that one Damn Yankees video. Pete reclaims his piano and together, he and Jon Lord (or is it Vincent Crane from Atomic Rooster?) beat the Zulus back and the day is saved.

Side 2, the equally long,equally jarring "The Distance Between Us Part 2" could be incidental music from the original, 1928 version of "Cannibal Holocaust."

After the first two sides, sides three and four may seem a bit of a let down, as the music becomes a little monochromatic and Bradshaw-Leather's unwillingness to lighten up becomes very wearingly. Still, this is an impressive and accomplished album, with well executed modern compositions that create an unbelievable degree of tension over a very long haul, while providing the listener with something new each time the needle is dropped.

"Who the hell is Don Bradshaw-Leather? Not much is known about him, but his self-released LP Distance Between Us (Distance Records, 1972) is certainly one bizarre egg. It's on the infamous Nurse With Wound list of Steven Stapleton's favorite weird records. There's hardly a thing about this double LP on the web besides want lists and offers for sale (it seems to be averaging around $200 for original vinyl). The four lengthy tracks here ("Distance Between Us" Parts 1 & 2, "Dance of the Goblins", and "Autumn Mist") are dense, swirling, and hellish tapestries of blurred instrumentation, squawking voices buried in the mix, and seemingly no layout of progression from point A to point B in various movements (i.e. it's all a giant progression, but almost like a dog chasing its tail in a mad frenzy). Tracks have the leanings of some epic Messaien pieces in some ways, though imagine Bradshaw-Leather taking his symphony and filtering it through some kind of lo-fi source like a boombox or something and then just went bananas in the post-mix. And if the front cover wasn't insane enough, he's again in Wolfman-garb on the back with a screaming topless woman. The whole sleeve package seems to be hand-cut and stitched as well...." - WFMU's "Beware the Blog"
WFMU actually played a lengthy excerpt of the album on the radio back in 2005. Click here to listen to that in RealAudio.
Here's a link to the Don Bradshaw-Leather Myspace page.
Info, complete album graphics and download at http://direct-waves.blogspot.com/2007/03/don-bradshaw-leather-distance-between.html
GIVE THE DRUMMER SOME!!!!
Gabe Locust of the Locust
Joe Morello of the Dave Brubeck Quartet
Larry Wright
Yahowha 13 on NPR!!!
This month, National Public Radio's "Day to Day" launched a three part series on The Source, a religious group based around the life and teachings of Jim Baker, a Korean War hero who, during the late 1960's, adopted the name, Father Yod, and opened a health food restaurant in Southern California. The young people who operated the restaurant with him formed the nucleus of his communal flock.

Many of Yod's followers were musicians, and the Source family recorded numerous albums throughout the early seventies, under such names as Yahowha 13, Yodship, and the Savage Sons of Yahowha. These albums were ceremonial jams; deeply psychedelic ritual music that served an important function in the spiritual life of the Source. As such, they are vital artifacts of their era, of man's eternal quest for spiritual transcendence, and of music as life-art.
This series is archived on NPR's website. Click here for part one,then follow links on NPR.org for parts 2-3. Also included are some jpeg slide shows and and an AMAZING film of Yahowha 13 in performance
ETCHED IN BLACK's own CULT page contains info on The Source, along with some valuable links.
Richard and Linda Thompson on The Old Grey Whistle Test, 1975
THE ETCHED IN BLACK GUIDE TO ARTISTS and ESSENTIAL CONCEPTS Revisited
The roots of this site lie in the GUIDE TO BANDS AND ESSENTIAL CONCEPTS, a proposed reference tome I began writing at the turn of the century or so. Since I'm way late getting the site up this month, and have been lax in my duties as an author and used record reviewer, I thought it might be fun to re-post some excerpts from the GUIDE, which has been offline for quite a while.

Rather than reviewing individual albums, as I do now in my used record reviews, I was under the sad impression that I could be more helpful and cover more ground were I to approach the history of recorded music on an artist-by-artist basis. Theoretically, this might sound like a good idea, but it was actually quite wrongheaded. While it is true that I could discuss more recordings in less space by reducing a band's entire discography to a paragraph or two, it was ultimately a very shallow exercise, as the format I had imposed on myself allowed very little in-depth analysis where such analysis was obviously needed. All said and done, it is better than I give my readers an adequate impression of a single Black Flag record they might not have heard, rather than reducing the entire career of this important band to an off the cuff paragraph that communicated nothing.

I'm not sure what it says about me, but the entries I was the most proud of then, and am still fond of today, are those entries in which I bag on a band I don't like. While loving analysis takes time and needs room to breathe, harsh criticism is best served in short, acerbic bursts. These were the entries which generally got the most attention as well, as they generated the majority of the scant e mail this site has generated over the years. Devotees of sub par bands are as passionate as the fans of good ones, and even more likely to write you when you piss them off. My favorite e mails were those who attacked me as a "right wing stooge" and a "warmonger," among other things for my unfavorable analysis of Rage Against the Machine and Green Day. I'm really sorry that I don't believe that some wealthy rock star is going to become the next Emiliano Zapata just because his press kit says so, but I don't. Sorry, Jan Wenner, but rock and roll is a piss poor medium for serious political expression, at least that above a high school level, and if I am overly hard on left wing politics in rock, it's only because it's reductionist and silly and there isn't as much right wing rock to be dismissive towards. Maybe the ideological battle between Billie Joe Armstrong and Ted Nugent keeps your panties in a wad, it hasn't done much for me since I was 22.

In any case, here are my favorite excerpts from the GUIDE TO BANDS AND ESSENTIAL CONCEPTS. More new reviews of old records next month.
ALLIN, GG
The name, GG Allin, may have inspired dread during the man's lifetime, but nowadays it conjures up a specter of embarrassment. After all, it doesn't say much for my generation of punk rock fans that a guy who ate his own crap on stage was able to loom so large in the estimation of so many for so long. It's kind of funny though, in retrospect, how many of the same fanboys who would laugh at you for attending a (snort) Nirvana concert actually paid to have human waste flung at them by some bald guy in a jockstrap. It's even funnier how the same punk fanzines that stridently blasted the sexism of mainstream cock rock could simultaneously advertise and promote records by a habitual, violent, sex offender and avowed pedophile who sang about "The Young Little Meat," and far worse. Funny, but still embarrassing.

During his lifetime, GG Allin was known more for his disgusting live show than he was for his music, so there's precious little in his expansive discography that bears close investigation. The sides he recorded with THE JABBERS in the late seventies/early eighties are punk classics, and GG's first record with THE SCUM FUCS, "Eat My Fuc" has its moments. Two of his albums for Homestead Records, "Freaks, Faggots, Drunks and Junkies" and "You Give Love a Bad Name" have high points, as does "Murder Junkies," the album he cut with Antiseen in 1991. I have a soft spot for his "Shitkickers" 7", a collection of country tunes featuring Antiseen, and I've heard that another 7" exists bearing two great rockabilly numbers, complete with accordion. What's good about these records is sometimes very good, just as what is bad about them is very bad. What more can be said?
AMEBIX
A British anarchist band of the late to mid 1980's whose music owed more to bad heavy metal than it did the awful hardcore punk bands the band allied itself with. The album ARISE was first Alternative Tentacles record I ever bought that I didn't like.
BEATLES
A reasonably popular British group who enjoyed some chart action during the 1960's. Wilson Pickett covered their hit, "Hey Jude," to stunning effect in the early 1970's.
BEAU BRUMMELS
Sixties pop group who scored a hit with the melancholy "Laugh Laugh." Dismissed for decades as faux British Invasion poseurs, although the high quality of the band's singles should speak for itself.
BOO YAA TRIBE
Samoan-American rap crew who enjoyed their heyday in the early to mid 1990's. Their excellent NEW FUNKY NATION LP (4th and Broadway 1990) broke much ground in its use of live musicians in a hip-hop context.
BUSH
When I read that the internet was rife with "Bush Hatred" I was very pleased - until I realized that it was just more political posturing and not a movement deriding the worthless British grunge band, Bush. I first remember hearing Bush a while after Kurt Cobain died, when a lot of DJs were playing the hell out of the song, "Glycerine," a track carefully constructed to fool the listener into thinking the tune a lost Nirvana recording. I remember being fooled the first time around, and feeling pretty stupid about it once I found out it was just these poseurs.
CANNIBAL CORPSE
Boasting a pair of nimble metal guitarists and a consistently ace rhythm section (Alex Webster is one of the most distinctive bassists in rock today,) Cannibal Corpse can create some intimidating and genuinely creepy instrumental atmospheres, at least until the vocalist bursts in and spoils everything. Death metal fans insist that the vocals be "horrific," and it would indeed be difficult to find two more horrific sad sacks than original vocalist Chris "Cookie Monster on a Rampage" Barnes or current throat George "Dog Breathing Through a Plastic Straw" Fisher. With song titles like "Fucked With a Knife," these guys are already fighting an uphill battle to be taken seriously; a struggle made no easier when the singer sounds like Grover and any given lyric could be "oooh washca, ooh noodoo thuskah oooh." A sad example of a good band hobbled by the constraints of death metal orthodoxy.
CHRISTIAN DEATH
As the premier American Goth band of the 1980's, Christian Death worked hard to cultivate a spooky image. Too bad the scariest thing about this wretched little combo, aside from the first album's photos of Rik, "The Gothic Butterball," Agnew in vampire drag, is how spine-tinglingly dull and pretentious most of their records were. Paving the way for Madonna's later, Pepsi-era exploits, Christian Death mixed a sleazy, bisexual decadence (think of "Topher," the flamboyantly homosexual fat kid in your high school drama class,) with a "transgressive" take on biblical mysticism that was ultimately as uninteresting as it was simpleminded and vulgar.

Overheated concept albums, such as ATROCITIES (released in the German Normal label in 1986,) purported to contain "the emotional remains of millions," as well as all sorts of sexy secrets concerning the generally unsexy history of organized religion. They ultimately paved the way for guitarist and band leader Valor's defining moment: THE SCRIPTURES: A TRANSLATION OF WORLD BELIEFS BY VALOR (Jungle Records, 1987.) What fun that was!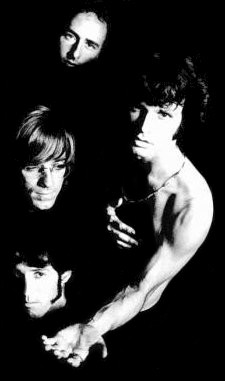 DOORS
A seminal, influential band despite, but also because of, the banal pretensions and self-destructive shenanigans of lead singer Jim Morrison. It was his obtuseness that ultimately destroyed the band (and himself,) but it was also his compulsion to be morbid and weird that, arguably, made the Doors the first Goth band and helped create the first mass audience for death-obsessed, minor key pop music: the audience who would go on to embrace heavy metal and punk in the 1970's.
EARLE, STEVE
Gifted country songwriter who tried to take Nashville in the late eighties, only to be derailed by ornriness, drugs and a prison stint. His first album, GUITAR TOWN is a good debut, followed by several albums of better-than-average new country rock. TRAIN A'COMIN' (1995,) was the first album of Earle's brief "essential period," followed by 96's I FEEL ALRIGHT, a good album that, pretty much, set the pattern from which every subsequent album has been cut.
ELECTRIC WIZARD
Black Sabbath worshippers from an alternate universe where entropy has frozen the air into a thick, slushy substance through which sound slithers like a snake through honey.
EMPEROR
During the mid to late 1990's, Emperor were foremost in a vanguard of bands trying to introduce advanced musicianship, taste and elements of the European symphonic tradition into Norwegian black metal. Thus, from the sonic mess of generic black metal, they were able to construct a somewhat more palatable mess with more guitar overdubs, keyboards, and aspirations towards the neoclassic. Fans on the internet describe this music as "Wagnerian, " but comparisons to the overwrought, pseudo-classical pretensions of Meat Loaf's BAT OUT OF HELL II or the later works of Andrew Lloyd Weber seem more appropriate.
FONZIE FAVORITES
A budget compilation of 50's pop singles released by Ahed records in 1976, to cash in on the popularity of ABC's "Happy Days" TV series and its character, Walter, "The Fonz," Fonzerelli. Infamous among collectors for its absurd and hilarious "Impressionist Track," on which a Fonz impersonator repeats the phrases "Ayyyyyyeee!" and "Sit On It!" ad infinitum over generic fifties sax rock.
FULLER, BOBBY; THE BOBBY FULLER FOUR
Texan who hit the national charts in 1965 with the Buddy Hollyesque "I Fought the Law." A good listen to the recently released SHAKEDOWN! THE TEXAS TAPES REVISITED (Del-Fi) shows his Bobby Fuller Four to have been a unit of considerable rock muscle, blending the sweet, jangly pop of the Crickets (with whom Fuller sang after buddy Holly's death) with a harder, surf influenced R&B edge. Although they would ultimately influence the Clash, the Dead Kennedys and a host of other later bands, the Bobby Fuller Four enjoyed only a short time in the sun. Five months after "I Fought the Law" hit the charts, Bobby Fuller was found dead in his car, doused with gasoline in what was ruled a bizarre suicide.
GREEN DAY
Back in the late 80's, Green Day stood out from the California punk rock herd by shit-canning the dog collars and distancing themselves from the played-out political ranting of the Gilman Street intelligentsia. Their first proper album, 38/SMOOTH (Lookout 1990,) and the 7" "Slappy" EP (Lookout, 1990) which followed, were fun, snappy records that contrasted with the decidedly un-snappy, definitely un-fun ritual too much punk rock had become. 

1994's DOOKIE, the major label debut that brought punk rock to the Boys II Men generation, is a good record, but it was still depressing to see the band so blatantly pander to the same tired safety-pins and oi-oi-oi shtick they had so successfully strove against only a short time before. Even more depressing was the speed with which the subsequent albums began to suck. AMERICAN IDIOT, a Grammy winning album upon which much praise has been heaped by the sort of politicized taste makers Green Day took care to avoid early on, is merely the latest dull album in what has become a dependable string of dull albums.

HELMS, BOBBIE
Hoosier country legend who scored three simultaneous pop hits in 1957 with "Fraulein," "You Are My Special Angel," and "Jingle Bell Rock." "Fraulein" would remain on the national charts for 52 consecutive weeks, and for decades stood as the biggest country hit of all time. "Jingle Bell Rock" has become the biggest selling Christmas record of all time, selling over 120 million copies. Helms troubled the top of the charts little after these remarkable feats, but continued to record for years. A vocalist of considerable depth, Helms' reverb-drenched country ballads could be quite haunting, while his forays into balls-out rockabilly, such as "Tennessee Rock and Roll," cut considerable mustard as well.
JONES, GLORIA
American soul singer who made the big time in England with the original, 1964 version of "Tainted Love." While pursuing a solo career into the 1970's, Jones would serve as a member of T. Rex, penning some later material and bearing a son by the group's star, Marc Bolan. 

Jones was driving herself and Bolan home from a restaurant on the night of September 16, 1977 when she fell asleep at the wheel and hit a tree. She was injured. Bolan was thrown from the car and killed.

LEWIS, JERRY LEE
Forget Black Sabbath, forget Marilyn Manson, and forget backward masking. For all the evidence you need of demonic influence in rock and roll, look no further than the Sun recordings of Jerry Lee Lewis. Of course, the spirits which possessed him came straight from a bottle of corn liquor, but that does little to dispel the outright malicious ambiance that pervades Lewis's earliest work. A lot of artists have sang about being drunk but, as is made painfully obvious when one hears the complete Sun sessions, uncut, and including Lewis's wild, between-track outbursts, Jerry Lee was actually blind drunk when he recorded his best known material. As we all know by now, Jerry Lee is one mean drunk, which is captured quite ominously on record. Hearing him perform "Great Balls of Fire," talking to himself in hushed, quivering tones, trying to calm the wild thing that curled inside his frontal lobe is scary, exciting stuff, especially, as anyone who has gotten too close to Jerry Lee over the years can attest to, that mean ol thing up there wasn't having to any of that "calm down" shit. The devil, come to do the devil's work.
LITTLE RICHARD
Little Richard has, since the beginning, personified the rock and roll wild man. Defiant in his blackness and bisexuality at a time when one quality made you an outcast and the other could get you killed, Richard howled, screamed and gyrated his way through McCarthy's America in a mad explosion of raucous energy the world had not seen since, well...maybe the world had never seen the likes of Little Richard. 

The sides that Richard cut for Specialty Records in the 1950s are the corner stones of any complete rock and roll collection. On such essential tracks as "Tutti Fruiti," "The Girl Cant Help It," and "Keep A-Knockin" (which Led Zeppelin well...umm...appropriated for their song, "Rock and Roll,") Richard and his band, the Upsetters, cemented their reputation as the wildest rockers ever, and laid the groundwork for the coming revolution. It's no coincidence that nearly every rock drummer since Earl Palmer sounds like he does on the Specialty records, nor is it just chance that has found nearly five decades of rock and roll scrambling to maintain the frenzied pace set by those recordings. Whop-Bam-Boom indeed!

LITTLE ROGER AND THE GOOSEBUMPS
In 1978, San Francisco disc jockey Roger Clark married the lyrics to the Gilligan's Island TV theme with the music of Led Zeppelin's "Stairway to Heaven." The single, released on Splash Records, was a regional hit on the West Coast, but was stalled when Zeppelin manager Peter Grant sued for copyright infringement and the record was withdrawn.

Legend has it that some DJ friends of Roger Clark protested Grant's lawsuit by repeatedly playing tape loops of "Stairway to Heaven" backwards over the air. It is possible that the legend that "Stairway to Heaven" contains prayers to Satan that can only be heard when the record is played backwards originate from this protest. After all, at what other point in music history would large numbers of people have occasion to play the record backwards enough times to analyze what the vocals might say reversed?


MADDOX BROTHERS AND ROSE
An important link between western swing and rock 'n' roll, this family act from Alabama cut several rocking hillbilly sides for Columbia from the 30's into the 50's. Rose would later go solo, also serving as Buck Owens foil on songs like "Mental Cruelty."
MENTORS
Self-styled "sickest band on Earth," this trio was brought to national attention when Tipper Gore read the lyrics to their song, "Anal Vapors," on national TV (what a precious moment THAT was.) The hooded trio of Sickie Wifebeater, Dr. Heathen Scum and singing drummer El Duce released several albums during the eighties, each more perverted, homophobic and misogynistic than the last. 

The band's 1987 album, UP THE DOSE, is typical of the Mentors's subtle, endearing approach. It contains the big rock anthem, "Heterosexuals Have the Right to Rock," along with similarly sensitive numbers, such as "Rock 'Em, Sock 'Em" (about spouse abuse,) "White Trash Woman," and "On the Rag." Musically, the Mentors were by the book 80';s metal, made unique by the geriatric vocals of the middle-aged El Duce. Imagine Mr. Roper from "Three's Company" singing for Megadeth and you've got an idea what the Mentors sounded like. 

The Mentors broke up in 1993, but regained the spotlight in 1998, when documentary filmmaker Nick Broomfield featured El Duce in his film, "Kurt and Courtney." In the film, the obviously intoxicated El Duce claims that Courtney Love offered him money to assassinate Kurt Cobain shortly before the Nirvana leader's suicide. El Duce passed out drunk on some train tracks and was killed before the film was released. 

MINOR THREAT
Minor Threat were not the first hardcore band, but they did more than almost any other band to popularize the genre and establish it as a new music, separate from the punk rock that had come before. Ask most record geeks what hardcore sounds like or, more rightly, should sound like, and they'll play you a Minor Threat record. 

The band emerged from Washington DC in the early 80's, a time when a lot of middle-American kids had come to feel that punk rock was becoming as entrenched and stale as the mainstream arena rock it was supposed to supplant. They railed against the musical limitations of the genre and the live-fast-die-young-sex-and-drugs rhetoric of punk. Minor Threat, with their faster than fast power chord attack and "straight edge" philosophy spoke to these kids, and radically changed the nature of underground music and attitudes for a good ten years. 

That the hardcore genre they helped found became, in dramatically short order, as dogmatic and dull as the punk it succeeded, is nowhere apparent on the five EPs and one album that constitute the entirety of Minor Threat's recorded canon. 

The first two EPs, IN MY EYES and MINOR THREAT, both released in 1981 on band's own Dischord label, are the hottest of the lot: driving music played as fast and as distorted as anything could be while still resembling rock and roll. OUT OF STEP (1983,) the band's only album, is noticeably slower and less intense, as is the superior SALAD DAYS EP. LIVE AT BUFF HALL is a 7" record documenting a raging show from 1982, and 2003's THE FIRST DEMO TAPE is just that - a blistering rehearsal of songs that would end up on the first record.

MOBY
Hugely overrated producer/musician who rose to prominance through the techno dance scene, then hit the big time with two identical albums of soulless mood music. At his best, Moby can be quite riveting (the EVERYTHING IS WRONG album has some glorious moments, and even PLAY and 18 have some very solid tracks, just not enough of them,) but too much of his work relies on the gimmick of sampling old blues records to justify his big star status.
POPOL VUH
Popol Vuh was the first German group to utilize a moog synthesizer, placing them ahead of even Tangerine Dream and Kraftwerk in moving German rock ahead from the guitar-heavy psychedelia of the 60's to the futuristic abstractions of 70's Krautrock. 

Formed in 1969 in Munich, the group took its name from a Mayan holy book (as did an identically named Dutch group of the same period,) and developed a strange, "techno-primitive" synthesis of simple percussion and electronic soundscapes. Their first album, AFFENSTUNDE (1970) presented such a giant leap towards today's ambient electronica that you'd be hard pressed to pin it on the early seventies were it not from the hippie band picture on the back of the record. Later albums would find the band exploring more conventional, but still outré, rock and guitar-driven psychedelia, as well as acoustic music and cosmic drone. They have contributed soundtrack music to several films by Werner Hertzog (notably "Fitzcaraldo" "Aquirre: The Wrath of God," and "Nosferatu.")

RAGE AGAINST THE MACHINE
Heirs to the Clash's Marxist Cash Cow, Rage Against the Machine sold rap metal McRevolution to those junior politicos too sophisticated for Kid Rock but too dense to question whether or not high level employees of Sony Corporation were really the most sincere opponents of global capitalism. The revolution might not be televised, but the revolution, or some facsimile thereof, has certainly been good to these multi-million dollar communards. 

My favorite moment of Rage is "Snoop Bounce," their collaboration with Snoop Dogg for the MUSIC FOR OUR MOTHER OCEAN VOLUME 3 compilation. This record finds our tireless enemies of greed, selfishness and investment portfolios providing capable backing while "international money maker" Snoop brags about how much cash he makes for three minutes straight. Irony? Not sanctioned in this cell, comrade! 

"Throughout its career, Rage took pride in delivering "music with a radical message." Its members dressed exclusively in Clash-inspired, revolutionary-chic costumes. They played gigs at anti-WTO rallies and political conventions. Their website referred to leftist causes ranging from Mumia Abu-Jamal and Leonard Peltier to U.S. sanctions against Iraq and San Francisco's Critical Mass ("a monthly bicycle ride to take back the streets from cars"). Rage, in other words, had all the trappings of even the most political bands that had come before it (including, to a great extent, the Gang of Four). But the music itself wasn't political at all. The band's melodies were brutally simplistic; their lyrics were so preoccupied with the fact that the band had a radical stance that it was often hard to tell exactly what that radical stance was... 

"Perhaps it was Rage's major-label sponsorship that kept the band from engaging in political specifics, prevented them from criticizing their own connection to exactly the sort of corporation they agitated against, and hamstrung their ability to develop a genuinely political musical vocabulary. But inchoate politics, backed up by an equally inchoate rage, formed the perfect soundtrack to televised coverage of the WTO protests in Seattle or DNC shadow convention in Philadelphia--gatherings where the activists seemed equally confused about what, exactly, they were agitating against--and Rage sold a fantastic number of records. This, in turn, strengthened their connection to Epic, and further compelled them to make political statements that were either solipsistic, or fashionable enough to dull their edge and impact (as are the litany of causes you'll find on their website). (Alex Abramovich, 'Nevermind: How Political Rock Became a Pose,' NEW REPUBLIC ONLINE 2001")

REVERE, PAUL AND THE RAIDERS
Remembered for their revolutionary war costumes and appearances on Saturday Morning kids' shows, Paul Revere and the Raiders are often overlooked as one of the more entertaining r&b / garage combos of the 1960's. 

To be sure, there is a wealth of disposable pop in the Paul Revere discography, but singles such as "Steppin' Out." "Kicks," and "I'm Not Your Steppin Stone" are hard-assed garage classics and the few extant live recordings smolder with big beat fury. 

RITES OF SPRING
Seminal Washington DC "emo-core" band, whose 1985 debut is a precious artifact to many who still celebrate the lost kingdom of 80's indie rock. I owned the record for years and never liked it, but I'll admit that it stands as a testament to just how inclusive, exploratory and exciting American punk rock was before Green Day took Johnny Rotten to the Mall in the 90's.
Argentinian conductor and composer responsible for the musical scores of at least 200 motion pictures and television series since 1957. His credits include "The Man From U.N.C.L.E.," "Bullet," "Dirty Harry," "Cool Hand Luke," "Enter the Dragon," "Starsky and Hutch (TV)," and "Rush Hour." Several of Schifrin's soundtracks are commercially available, including his unused score for "The Exorcist."
SEEDS
Singer Sky Saxon was sort of a 60's John the Baptist to Iggy's 70's Punk Rock Christ. His surly whine embodied the predatory sexuality which had always coiled around the base of rock's spine, but which was just beginning to creep its way towards the loins of little white surfer girls in the mid sixties. Studio recordings played off the weird juxtaposition of sweet, trippy organ against Sky's juvenile delinquent snarl, while "Live and Raw" heads straight for the center of the punk rock vortex.
"SOME KIND OF MONSTER"
Demoralizing documentary on the once-mighty group, Metallica. "Monster" takes us into the studio during sessions for the band's mediocre ST. ANGER album, a disc recorded while the group underwent intensive family therapy to repair their tattered relationships with one another. Whether it worked or not is an open question. 

Even Tammy Faye Baaker has not wept publicly as much as Metallica does during this film. Lars Ulrich cries because his dad doesn't like his new song. James Hetfield cries because he decided to go bear hunting in Russia instead of attending his daughter's first birthday party. Even Dave Mustaine rears his head up from the dimlit past to ball his eyes out over being fired from the band over twenty years ago. Watching men in their forties - fathers! - turn on the waterworks in such a needlessly unabashed and public fashion over next to nothing is funny, at first, but over the course of an entire film it becomes disturbing. 

The film ends with the filming of the "St. Anger" video in San Quenton (a really unflattering comparison between Metallica and Johnny Cash springs to mind,) where the band plays and engages in a wierd meet-and-greet with some prisoners. As the two camps - one side a crew of hardassed, incercerated felons, the other a bunch of patsies you've watched squall like babies for two hours - compare notes on anger management, the viewer can't help but wonder if this is all some kind of monsterous joke.

TARGET VIDEO
Target was a film and music collective located in San Francisco, dedicated to documenting the punk, new wave and industrial music scenes of that city during the late 1970's - early 80's.
TWILLEY, DWIGHT; THE DWIGHT TWILLEY BAND
Twilley was the mid 70's wunderkind who recorded "I'm on Fire," the greatest Big Star song Alex Chilton never wrote, in 1975 and little else of any consequence for the next 25 years or so. True, Twilley would have one more hit single, "Girls" in 1984, but when one weighs the bulk of Twilley's lackluster discography against the majesty of "I'm on Fire," the phrase "give a monkey a typewriter'..." comes sadly to mind.
Korla Pandit's Adventures In Music
Born John Roland Redd in St Louis in 1921, Korla Pandit was an African American musician who found TV stardom in the 1950's with "Korla Pandit's Adventures In Music," a program on KTLA in San Francisco.

When the young, black pianist headed West in the late 1930's to seek a career in show business, he decided the best way to score higher-paying entertainment jobs in a deeply racist era would be to pass himself off as a foreigner. His first guise was that of the turbaned "Juan Rolando," a Latin organist who gigged successfully around Southern California until the early 1940's. Playing on white audiences' notions of the dashing Latin lover, Juan Rolando was able to play venues that might have never hired an African American musician. His fortunes were good until the infamous "Zoot Suit Riots" - instances of racially motivated mob violence between Navy personnel and Hispanic civilians - made it increasingly difficult for an apparently Hispanic musician to play for white audiences. Suddenly, Juan Rolando was no longer Latin, but an Indian immigrant from New Dehli. A new character began to take shape.



In 1944, Redd married Beryl June DeBeeson, an artist for Disney Studios. As DeBeeson was white, the two were not allowed to legally marry in the U.S., and were wed in Tijuana, Mexico.

DeBeeson proved a dedicated and creative business partner, taking an active role in her husband's career and helping him create a realistic, compelling persona for his new alter ego, "Korla Pandit."

Korla would be from India, as Juan Rolando had eventually been, but his history would be at once more detailed and exotic. The child of a Brahman priest and a French opera diva, Pandit had traveled to England from his home in the exotic East to seek his fortune as a musician. After taking the UK by storm with his Asian-tinged piano and organ stylings, Pandit came to America to become a true star.
Decked out in his turban and shimmering Nehru jackets, with a matinee idol's good looks and expressive, dark eyes, Redd perfectly assumed the aspect of a mysterious Indian musician. As time went on, John Roland Redd became increasingly a footnote in the biography of Korla Pandit, and doors began to open for a swami-like Indian organist that would have remained closed to a black man in those days.

In 1948, Korla Pandit took a job as music director of the radio show, "Chandu the Magician." Later that year, a chance meeting with television pioneer Klaus Landsberg ended with Landsberg offering Pandit his own 15-minute TV show on the Bay Area's KGO-TV.

"Korla Pandit's Adventures in Music," established Pandit as a TV celebrity well into the 1970's. The format was simple: Pandit would play organ and piano, often simultaneously, in a studio decked out to resemble various exotic locations, such as stylized Indian temples. Often, dancers would twirl about the stage as he played, and special camera effects would sometimes make it seem he was playing underwater, or as seen through a veil of incense and smoke.

Landsberg was insistent that Pandit should never speak on camera, thus maintaining an air of mystery regarding this handsome young Easterner. Without words, Pandit spoke through the music while his large, dreamy eyes gazed seductively into the camera, flirting with the housewives who made up the majority of his audience. The show soon expanded to a half-hour broadcast, and Pandit became celebrity enough to appear in motion pictures, such as "Something to Live For" in 1952.

During this period, Pandit became a recording artist, releasing singles and LPs on the Fantasy, Vita and India labels. He would release 25 albums between 1954 and 1995. At least six of these are currently available on CD. It is through these recordings of Oriental mood music and pop standards re-tooled to sound more superficially asian, that Pandit helped pioneer the style of music we now call Exotica. Along with such stars of that genre as Les Baxter and Martin Denny, Korla Pandit was among the first popular musicians to evoke the West's romantic notions of the Far East through adventurous music that introduced new instruments, ideas and sounds into the pop vernacular of the postwar period. Because of his exotic appearance and the perception that he, unlike the white Baxter or Denny, was actually an Easterner, Korla Pandiit became emblematic of the Exotica movement. Not only did Pandit play exotic music, he actually was an exotic personality who provided his fans with a visual as well as musical sense of the idealized Orient.

By the 1970's, Pandit's TV stardom had waned, but he still recorded for the India label, and was still a popular live attraction at restaurants, theatres and night clubs. In the 1990's, he was featured in both volumes of the "Incredibly Strange Music" series of books. This led to renewed interest in his extensive discography. In 1994, he appeared in Tim Burton's film, "Ed Wood." In 1995, Sympathy for the Record Industry released Pandit's final album, EXOTICA 2000.

Korlas Pandit died in 1998, leaving a rich legacy of recordings and TV appearances. Much of this material is now commercially available.
Click here for Korla Pandit CDs at CD Universe
Click here for Korla Pandit DVDs from Something Weird Video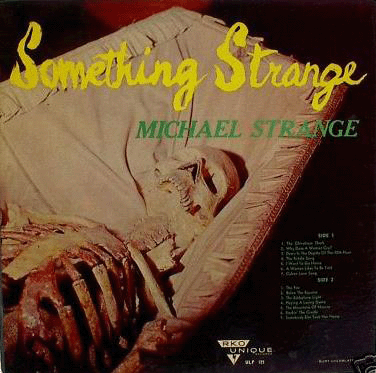 GREAT COVER, AWFUL RECORD. JUST SOME BORING FOLK SINGER
ZOUNDS...WHAT SOUNDS!!!
MORE USED RECORD REVIEWS WITH EXTENSIVE LINKS - ALL UNDERLINED ITEMS LINK TO VIDEO, SOUNDFILES AND INFO.


HENRY FLYNT TAKES IT TO THE STREETS, CIRCA 1966
Henry Flynt and the Insurrections - I DON'T WANNA LP
Henry Flynt is a classically trained musician whose disdain for the Eurocentric bigotry of musical academe led him to develop his own gutteral style of lost-in-the-holler hillbilly punk protest music. Taught to play guitar by none other than the Velvet Underground's Lou Reed - who would later punch Flynt in the mouth on stage for playing too many country licks while sitting in with the VU - Flynt's style is simultaneously raw and complex. The first time you hear this 1966 album, you'll swear Roscoe Holcomb has gone punk rock, or that some other untrained, mountain musician has been listening to some Troggs records on his wind-up Victrola, then gone and got himself joined up with one of them electrical bands. Further listens however, reveal subtle textures and a trained hand for the transcendant drone of Eastern music. A lot of bands have played dumb while courting the avant garde, but there are very few, if any, albums so legitimately entrenched in the vernacular of the American South (Flynt operated in New York high art circles, but was actually from North Carolina) while simultaneously reaching for a disciplined, theoretical and modern approach to The Other. In reaching back into the redneck past to thumb his nose at the modern, Flynt created music that was simultaneously lower class real and highbrow adventurous - and stirred up a mighty rock 'n' roll blast in the process. No one has channeled Dock Boggs, Bo Diddley and La Monte Young to such stunning effect.
Weakling: DEAD AS DREAMS dbl LP
The best, most epic black metal album I've ever heard, and a real life-changer for anyone I've encountered who can get past the dumb band name and (genre-standard) shitty vocals. On a certain level, I guess Weakling wasn't "really" black metal, since they were from San Francisco, the drummer was nicknamed "Little Sunshine," and one of the guitarists was on loan from the Fucking Champs. Still, "Dead As Dreams" blows 9/10 of the "real stuff" out of the water in terms of musical accomplishment, epic sweep and emotional depth.

Weakling was one of the great two-guitar bands of the late 1990's. They were easily as good as Sonic Youth was during the same period, and a lot better than Interpol. Guitarists John Gossard and John Smith used the black metal palette to paint surprisingly colorful sonic landscapes, building textures similar to those Television might have constructed had they come of age listening to Emperor instead of the Byrds. Guitars slash ferociously together with power metal precision, then zone out into more experimental, almost ambient passages that evoke a melancholic inner landscape not far from that explored by earlier, "slowcore" bands like Codeine. The tension between disparate elements covers a lot of emotional ground, with Gossard and Smith alternately building glass castles in the sad air for ten minutes or so, then smashing them down with some heroic black metal riffing. Had "Ordinary People" been a viking movie, these guys would have provided the perfect soundtrack.


Moëvöt - "Les Légions Noires" Simply Beautiful.
The next time some pompous musical "purist" gives you shit for listening to Rush, you might make him aware of this late period disco album by Can. A tepid concoction of duff, white-boy funk moves and souless reggae, Flow Motion nevertheless gave the group its greatest commercial success, via the 1976 hit single, "I Want More." The only good song on the LP, "I Want More" - which is a really great song - became a massive Eurodisco hit, selling so many copies that the band was able to retire wealthy men on the sales of that single alone. Yeah, I'm whinin', but I've obviously never known the bitter frustration of trying to "Latin Hustle" to Tago Mago.
The point in the 1980's where I can remember Genesis becoming GENESIS!!! All the hipsters still hate this record, but it's damn near a perfect album and ten times more rhythmically inventive than almost anything else being recorded at the time. Had this album been recorded by some "right-on" combo like the Pop Group, the intelligentsia would have been all over it.
Throbbing Gristle: NOTHING SHORT OF A TOTAL WAR cassette
The first Throbbing Gristle recordings from 1977, unreleased until 1984. Throbbing Gristle were, of course, the first industrial group, back when "industrial" still meant machine noise and not cliche' eurodance electronica. Needless to say, these recordings sound like absolutely nothing being recorded back in the late seventies, to the point that you can't help but feel a certain reality disconnect when you try to put this music within the context of its era. While already as disconcerting and scary as they would ever be (witness "Slug Bait's" giddy depictions of castration, auto-cannibalism and pocket knife abortion,) Throbbing Gristle was not entirely as sonically oppressive as they would soon become. Much of this music is surprisingly spare, and a lot of the tracks here sound like odd field recordings from some apocalyptic future where the tribal inhabitants of a future London re-invent rudimentary rock music in their spare time between clan wars and human sacrifices . The opening track, "Epping Forest," is actually very dreamy and lovely. All of this provides brilliant contrast for the more balls-out moments of electronic noise mayhem that punctuate the proceedings. Released in a limited edition of 25, this cassette is readlly available for download for those who know where and how to look, and much if not all these tracks have been made otherwise available on similarly out-of-print cassettes.
This 1972 LP, now reissued on CD with extra tracks, has long been the redheaded stepchild of Krautrock albums, mostly because of its bizarre, apparantly neo-nazi packaging. With a nazi infantryman on the cover and song titles like "Down in the Bunker," "The Third Reich" and "Swastika Rising," the album seems to arise from some marginalized band of Holocaust Revisionists - an impression compounded by the fact that the only vocals present on the album are sampled recordings of speeches by Adolf Hitler. Despite all this, THIS IS NOT A NAZI ALBUM. It is, rather, a concept album about the German experience during World War 2, from the rise of the sinister Third Reich to the eventual bombing and descimation of Germany at the end of the war.

This album becomes a lot easier to appreciate when you stop to reflect that World War 2 had only ended 27 years before this album was first released. More time has passed between the release of this album and the present day than had passed between the surrender of Germany and GERMAN OAK'S recording. The war was still a fresh issue with most Germans. Every adult German either lived through the war, was a child during the fall of Hitler or born early enough in the postwar period to spend their earliest days beneath the shadow of a war lost. As world-changing as the war was for the rest of the world, it was doubly so for the German people, whose politics had given rise to the most massive conflict in world history, and who had seen their entire society practically destroyed and rebuilt from next to nothing. For these people, the war was still a source of many questions, a lot of pain, more than a little embarrassment and bitterness over lives lost and a nation betrayed. In this context, the notion of a German rock band recording a concept album about the war seems only natural. That the record deals so unblinkingly with the still-provocative symbols of the war years seems downright heroic.

The music of German Oak is a particularly ominus brand of garage rock, falling somewhere between the trance groove of Amon Duul II's "Hawknose Harlequin" and the noise rock of Guru Guru. Throughout the album, the group is able to summon up a sinister atmosphere in keeping with the sinister subject matter. This is particularly true in those powerful passages in which the band simulates, through music, the sound and terror of incoming bombers.
THE FLOWER TRAVELLIN' BAND has become one of my favorite Japanese psychedelic rock bands, and put out some amazing albums during the early to mid-1970's. I'll definately feature them in greater depth in a later edition of this page, but for now this video will have to do.
THE BLACK ALBUMS
Rice's first recordings from 1975, released in super-limited quantities in 1977. By the time Boyd Rice began performing as Non, his sound had become the most densely constructed wall of noise yet heard. Here however, we find Boyd Rice the record geek playing around with his collection of old, vinyl albums. Since all the loops and collages here are constructed from classical albums, the proceedings take on a surprisingly understated, even gentle tone. Not at all what his later work would have us expect it to be, and utterly unlike anything that emerged from the Industrial underground of its day. "I think I created something that blanks out your brain," Rice has said of this album, " leaving a vacuum and allowing new thoughts to form. There is no area of modern life where you have room for undirected thought. Unless you're sitting on a toilet, there is always some intrusive information. I wanted to crate something that would run all the thought out of people's heads."

Originally released in a private pressing of 85 copies, this album has been re-issued a couple times, both on LP (which is nearly as rare as the original pressing) and I would be shocked if a CD issue doesn't exist under whatever circustances. Look to the 'net...
The Damned - THE BLACK ALBUM dbl LP
Dismal double-LP from 1980. A few classics here and there ("Wait For the Blackout," is one of the band's best songs) but overall, this album is way too long and a plethora of lackluster tunes crowd out the gems. Side three is devoted to a pointless concept piece that drones on and on for over 17 uninteresting minutes. Side four is a live set that is alright, but could be a lot better.
Metallica - METALLICA (THE BLACK ALBUM) dbl LP
Clearly, a seminal metal album, and the the record that propelled Metallica from cult status to megarock stardom. Side one starts out strong, with The Big Hit right out there, front and center, followed by one of the group's heaviest songs, "Sad But True." In a perfect world, this would have led straight into the similarly heavy "The God That Failed." Side two could have opened with the lesser, but atmospherically consistent, "Anywhere I Roam," then gone on to that dumb werewolf song, then on to the underappreciated "My Friend of Misery." "Through the Never" could have picked up the pace, and provided a good lead into the otherwise misplaced "Don't tread on Me." "The Unforgiven" and "Nothing Else Matters" could have been moved onto a Bon Jovi record, where they belong, anyway.
Not bragging, but I got this back in the late 80's or early 90's, when it was still a bootleg. Either this album originated as a pirated copy of music Prince had written and recorded for Sheila E.'s birthday party, or was originally an album called "The Funk Bible," which was recorded as a hard-edged, funky response to critics who complained that Prince's work had become too pop oriented. In either case, this album is a lot heavier and funky than any of Prince's official releases had been in awhile. Prince's last minute decision to scrap this album at the last minute in favor of the lukewarm pop of the LOVESEXY album is at first puzzling, but makes sense when you think about it. LOVESEXY, as lackluster as it was, allowed Prince to further court the pop audience he had been catering to with albums like PARADE, while bootlegs of THE BLACK ALBUM, which were way too slick and easily acquired to be anything other than a sanctioned boot, earned him further credibility with a more funk oriented audience.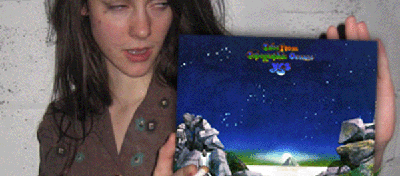 DRINKIN' MUSIC
Although it Was a Flop in it's day, TALES FROM TOPOGRAPHIC OCEANS is a Classic...Especially if You're Drunk
Nobody can agree on religion, politics, the war or anything else. At least we can all hate TALES FROM TOPOGRAPHIC OCEANS together, right? Ever since its release in 1974, this ambitious double album by the band, Yes, has been reviled as the apex of everything wrong with the progressive rock of the early 1970's. At the time of its release, the fans found its overlong, overly complex arrangements impenetrable and pompous. The critics dismissed the record as unfocused, self indulgent and needlessly obtuse. Melody Maker spoke for most critics by lambasting the album's lack of "warmth or personal expression." Rolling Stone summed up similarly widespread critique when it called the record's heady, freeform music "psychedelic noodling" - which was no longer a compliment in 1974. Even Rick Wakeman, who actually played on the record, hated it, and expressed his disdain for the work by famously eating his lunch on stage during its performance. Generations of punk rockers have used this record as the prime justification for their decades-long war on old school rock values, while prog geeks who will usually go so far as to actually defend the excesses of Van der Graaf Freakin' Generator won't go near TALES... with a ten foot pole. It is, after all, the album that "killed the prog" - the one grandious leap too many that sent the kids screaming back to three chord rock and roll a la T Rex and Kiss.

A double album comprised of one song, separated into four pseudo-symphonic "movements" stretched out over all four sides of the vinyl, TALES FROM TOPOGRAPHIC OCEANS is a ponderous work that is too long by at least three album sides. The lyrics, loosely based on a footnote in Paramahansa Yogananda's book, "Autobiography of a Yogi," could be generously described as pseudo-religious gobbledygook. TALES... is pretentious in every way on every level. Yes vocalist , and prime Ocean Topographer Jon Anderson, actually had the temerity to name the opening movement "The Revealing Science of God" for Chris'sakes! While the music attempts to invoke the spirit of Gustov Mahler, it just sounds like - surprise! - a prog rock band trying to stretch five minute rock songs into 18 minute "masterpieces" and getting lost halfway through. Not even the Jews of the Old Testament wandered around as much as do the "tunes" on TALES...

Of course, I love the album, with a love similar to that one might have for a pretty girlfriend who never got over being in drama club in high school and talks too damn much about superficial "profundities" that she doesn't really understand, and probably aren't worth understanding, anyway. While she's pretentious, annoying and your friends can't stand her at all, there's just enough genuine sweetness, just enough beauty in her when the light's shining just right on her profile, that you're hooked in the end, no matter what.

Back in the sixties, a lot of hippies used to defend the farthest, noisiest reaches of psychedelic music by arguing that the music could not be appreciated by anyone who wasn't stoned when they listened to it. Similarly, I hold that the wonders of TALES OF TOPOGRAPHIC OCEANS only reveal themselves to those who listen to the album while they are really drunk.

Unlike LSD, which fosters sensations of spiritual community, and marijuana, which puts your brain to sleep, alcohol enhances that part of the psyche that forms sentimental attachments and lends undue emotional gravitas to the goofiest shit imaginable. When we are drunk, everything is sadly beautiful and every idea seems a truth tinged with the sweetest of tragedy. It is this altered, emotionally susceptible, even child-like frame of mind to which TALES FROM TOPOGRAPHIC OCEANS was written and performed. Its words and music are designed to re-visit the very youth of the world, when, mythology holds, everybody was a lot more child-like, less sober and less cynical. It's lyrical images of god-like children dancing into the sea are matched with soaring music to rekindle within us the childish naiveté that made such fairytale images seem real when we were small, and to appeal to that bittersweet feeling the loss of that guilessness inevitably inspires in the adult. Like a pint of something tall and strong, TALES... makes us misty-eyed for times long passed.
KNOCK 'EM BACK AND CRANK 'ER UP, SON!!!
Anyone who has ever read the lyric sheet from any Yes album must realize that, when dealt with cold sober, Jon Anderson must be one of the most irritatingly spacey hippies to ever walk the face of the Earth, and one of the worst lyricists ever: "Dawn of our power we amuse redescending as fast as misused expression, as only to teach love as to reveal passion chasing late into corners," my ass!

When you're drunk, however, Anderson becomes a veritable font of useful information regarding the true nature of God and the universe. The more you drink, the more slack you cut him, and the more beautiful and profound his lyrics become. Maybe the Revealing Science of God really CAN "be seen as an ever-opening flower in which simple truths emerge examining the complexities and magic of the past and how we should not forget the song that has been left to us to hear"...HIC!

And what a pint can do for one's appreciation of TALES... as a musical experience! Even cold sober, the album's opening movement is amazing. A mad and heroic rush of voices, organ and percussion, rising towards a massive crescendo like E. Power Briggs and some enraged drumcore chasing the Harlem Boys Choir over a cliff , it's one of the most magnificent moments in British progressive rock. How much more awe inspiring it sounds through headphones at two in the morning with a belly full of boilermakers! Sounds like the whole damn Viking Horde racing up the beach with armfuls of flowers (hey, it's Yes we're talking about here,) to shower upon a nation of of fat nymphs who run, giggling through the fields of morning, the Earth rumbling beneath their feet as their big, cottage cheesey asses jiggle wildly towards the sunrise. Traditional "drankin' music," like Hank Williams or Bob Seger cannot compare!!!
Patti Smith sings "You Light Up My Life" on Kids Are People, Too.
LINKS
The Record Geek Reading List for March, 2008
"The 100 Worst Cover Songs" by Retrocrush
"Muddy Waters: His Most Hated Album" by Tim Shannon
"Angus Maclise: Master of Synthesis" by Rene van der Voort
"The Throat Singers of Tuva" By Theodore C. Levin and Michael E. Edgerton
"Jimmy Page: Genius or Thief?" by Will Shade
"To the Throne of Chaos (Liners notes for a Destroy All monsters CD Box Set") by Mike Kelly
KARLHEINZ STOCKHAUSEN 1928-2007
One of the most important composers of the Twentieth Century has died. Karlheinz Stockhausen was among the first serious composers to incorporate electronic instruments and tape effects into his compositions. His Electronic Studies, from 1953, was the first musical piece to be composed from pure, electronic sine waves.
Stockhausen's admirers include such musical luminaries as Miles Davis, George Russell, Frank Zappa and Bjork, but he is best known to popular music fans for his influence on the Beatles. Both Lennon and McCartney are said to have become enthusiastic fans of the composer during the mid-sixties, and began incorporating Stockhausen-inspired tape effects into their music, beginning with their Revolver album. The tape collage that underlies McCartney's "Helter Skelter," from The White Album is a conscious homage to Stockhausen's techniques, as is Lennon and Ono's "Revolution 9," from the same LP.
Stockhausen passed away from a sudden heart attack in his home in Kuerten-Kettenberg.
Here is a link to WFMU's announcement of Stockhausen's death, along with MP3 rips of a 1967 recording of Stockhausen's "Prozession."
An excerpt from a Stockhausen Lecture on "sound," from 1972.
Here's a video of Stockhausen's Hymnen. This work served as a direct and obvious influence on Lennon and Ono's "Revolution 9."
FUNERAL FOLK
One of the more interesting labels of the new underground is the European Funeral Folk label. Applying a black metal attitude and graphic sensibility to freeform folk and ambient sound, the label seeks to create the impression of a snow-shrouded world of satanic folknicks, conducting their shadowy rituals beneath the full, European moon. Although the typical Funeral Folk release veers closer to the quiet end of the musical spectrum, any given release is liable to convey more genuine menage than a stack of Burzum albums. This is due as much to the somewhat lo-fi production emblematic to the label as it is to the music, which conjures of spectres of old European music, sixties freak-folk, adventurous krautrock and various twentieth century found-sound experiments. If Alan Lomax had found and recorded a tribe of Devil Worshippers living in a cave in Norway, this stuff would have been the result.
Check out the label's site HERE.
One of the major players in the Funeral Folk Universe is the Belgian group, Sylvester Anfang. Calling their sound "Pagan Belgopsych," the group blends folk music with horror movie flourishes, heavy drone, ambience and a distinct krautrock sensibility to create music that has been compared to new American psychedelia (Sunburned Hand, Wooden Wand, et. al.,) without that genre's heavy debt to the hippie folk past. To these ears, much of the group's music resembles the eerie, proto-industrial soundtrack to Tobe Hooper's Texas Chainsaw Massacre, had that music been played by a singularly bent psychedelic folk group, rather than the original, metal percussion-noise emsemble.
The group has released 5 cassettes on the Funeral Folk label, most of which are sold out, and a CD on Aurora Borealis, a label that deals in a similar vein of post-black metal dark folk to that explored by the Funeral Folk bands.
...and here's a link to the band's Aurora Borealis page, with info regarding their CD.
Here's a link to the Silvester Anfang page at Funeral Folk
The music is "Doldrums," by the 90's band, Cul De Sac. The video is a film created for the band by Chris Fujiwara and A.S. Hamrah. The band would often play live with such films projected on a screen behind them.
FLOWERS IN THE USED BIN
Short Used Record Reviews with boucoups of links
Pink Floyd: MUSIC FROM THE FILM "MORE" LP
Pink Floyd's first soundtrack, from 1968. The best of the Floyd's soundtracks, and an album that has really grown on me over the years. Psychedelic in the mode of the group's first two albums, and a distinct improvement upon the less focused Saucerful of Secrets, More is an essential part of the group's discography that is too often ignored.
This LP marks the point when, in 1977, the Amboy Dukes were totally absorbed into Terrible Ted's Awesome Ego. No matter - this is a better album than the Dukes ever recorded, and one of the best heavy rock albums of its era. Some of the faster, boogie numbers have not aged so well, but the slower, heavier tracks convey as much atmosphere as any metal tunes this side of the first Sabbath album. Ted can protest that he was drug-free during the day, but make no mistake - this is drug music, in all its echoey, smoke-clouded, wah-wahed glory. Don't think for a second that Kawabata Makoto has not smoked a zillion bowls to this album over the years. Psychedelia for the glue and qualuudes generation.
This 1987 album from mystery man, Jandek, is a lot of people's favorite - not so much for the music itself, as for the way it figures into the fantasy/soap opera many fans have constructed around the Jandek canon. Supposedly, this is Jandek's break up album. Nancy, who had appeared on Jandek albums on-and-off since 1983, has disappeared by this album and, since so many of the lyrics deal with parting and loss, this is Jandek's bitter assessment of the end of their relationship. All of that aside, this is one of the J Man's more accessable recordings with actual blues songs taking the place of Jandek's typical graveyard drones, and a more conventional singer/ guitarist standing in for Jandek on at least three tracks. Not be a boor, but this has been my least favorite Jandek record so far. When Jandek simply does whatever it is that Jandek does, at least no one else is doing anything remotely like it. Thus, there's really nothing to directly compare it to. It retains its essential enigma. When Jandek singes the blues, entering into territory already mapped out and claimed by so many others, he's just some guy who can't play guitar or sing trying to play the blues. Why would I not rather listen to Lightnin' Hopkins?
...if you have no idea what I'm talking about, click here
Rush: ALL THE WORLD'S A STAGE dbl-LP
From 1976, this live album finds Rush on the very cusp of their transformation from lunkheaded purveyors of pothead hobbit metal into a "thinking man's rock band." Granted, their best work was still ahead of them, but there's not a damn thing wrong with two discs of lunkedheaded, pothead hobbit metal.
Julian's Treatment: A TIME BEFORE THIS LP
A 1970 concept album, with a story based liberally on Isaac Asimov's Foundation Trilogy. Organ-propelled prog rock with jazzy leanings. Some passages are a little ponderous, but much of this - particularly those tracks with lengthy cathedral organ workouts - is A+ work. Very spacey and atmospheric.
Alice Coltrane: JOURNEY IN SATCHIDANANDA LP
My own sweet wife has referred to this gorgeous album as "African porno music," of all things! I realize going into this that Alice Coltrane is still the Yoko Ono of Jazz to a lot of John Coltrane fans - the wicked Jezebel who lured a heroic husband from the One True Path into the Dark Woods of the Avant Garde, then added insult to injury by dragging the Holy Name down with a singular artistic vision that none of the Defenders of Faith could get behind. I'll have none of that. Alice Coltrane was a musical visionary who informed her husband's art when they played together, then carried on his legacy admirably after his death. While all of her albums are worth hearing, 1970's Journey In Satchidananda remains my personal favorite. On 1968's A Monastic Trio, Coltrane's explorations were firmly rooted in the small-combo jazz tradition. Here, she sets out for the raga-jazz frontier, creating rich, exotic textures via the lush interplay of harp, piano, saxes and Indian instrumentation.



THE BABYLON DANCE BAND, PUNK ROCK CIRCA 1980
SO LONG, 2007...WE HARDLY KNEW YE...
UNDERLINED ITEMS ARE LINKS TO MUSIC, VIDEO AND INFORMATION
No one who has visited this site for very long (Hi, Mom! Hi, Honey! Zach - the check is the mail, I promise!) would ever accuse me of being the trendiest dude on the net. ETCHED IN BLACK is a site dedicated to musical discovery, but not necessarily to the propostion that your voyage of discovery needs to follow a linear path through time. With over 100 years of recorded music to analyze, and with so much of the best of it ignored or forgotten along the way, it's easy to get lost in the a past which seems so much more futuristic than so much of the 21st century actually ended up being. I don't apologize for this. Almost forty years beyond Terry Riley's "A Rainbow in Curved Air" , the majority of hipsters think they're "on the edge" if they listen to the Arcade Fire. Which of us is really behind the times? Henry Flynt's I Don't Wanna came out in 1966, and Rolling Stone thinks American Idiot is the ultimate in sociopolitical subversion - who's living in the past?
Which is not to say that 2007 was not a good year for music. A lot of great stuff came out this year - records that are every bit as good as much of the "classic stuff" I drone on and on about around here.
San Francisco's Wooden Shjips wins my vote for album of the year with a self-titled LP on Holy Mountain. One of the most genuinely underground sounding psychedelic rock albums released in many a moon, "Wooden Shjips" wraps spacey organ and fuzzy guitar around heavy bass grooves to a Stoogey, Suicidesque, krautrock effect that is most welcome, indeed. The CD has extra songs, but I'm still glad I bought the record, as the vinyl enhances the lo-fi, basement quality of the recording.
Even without Wooden Shjips, Holy Mountain was the label to watch in 2007. Great releases from the likes of The Zodiacs ( a fuzzed out , biker psych band with connections to such neo-psychsters as Sunburned Hand of the Man and Wooden Wand,) and Daniel Higgs (ex-Lungfish vocalist, ne neo-psych folk shamen - more about him later) have only enhanced the quality of the label's impressive discography. Check 'em out.
Another contender for my album of the year spot might be Robert Plant and Alison Krauss's Raising Sand album. These celebrity collaborations rarely amount to much anymore, but this album is a keeper, with both Plant and Krauss in top form, and both set on creating a original sounding, idiosyncratic work that stands apart from either's discography. The album's greatest simularity is to the more mystical, celtic-moody side of the Zeppelin tradition, filtered through the country sensibilities of Alison Kraus and producer T Bone Burnett. Plant, in particular, stuns from beginning to end, clearly at the peak of his ability to convey the emotional weight of a good song.
If you like this song, you should check out some of the other Plant and Krauss videos on Youtube.
Om is a duo that consists of the former rhythm section of the famous stoner metal band, Sleep. Given this pedigree, it's not surprising that critics who don't understand Om's music generally lump them in with the doom metal crowd - especially now that the pair have left Holy Mountain for Southern Lord Records.
The guitarless Om uses simple bass and drums to create a psuedo-devotional music that is as subtle and lovely in it's long, gentle passages as it is dense and pummeling in it's heavier moments. They've been been criticized for releasing a number of records that all sound basically the same, which is fair - there are more expansive musical visions than Om's, still. Still the group has successfully carved out a distinctive niche and, with their newest album, Pilgrimage, has built upon their previous work to create a powerful album that both sums up and transcends everything they've recorded so far. Pilgrimage begins with nearly eleven minutes of whispery arabesque - the darkness is deep within the Great Mosque - which gives way to approximately 16 minutes of heavy as hell, Ammon Duul 2- like psychedelic riffing, then settles back down to 4 minutes or so of quiet meditation. Much like Sleep's most ambitious LP, Dopesmoker, Pilgrimage was recorded to be listened to in one setting, with the aim of simulating a religious journey, complete with chant-like vocals and psuedo-profound lyrics. That Pilgrimage is ultimately more interesting than the more monochromatic Dopesmoker, is a testament to Om's greater sense of subtlety.
Yes, this is older than 2007, but I'm suddenly in the mood for some ELECTRIC WIZARD. Does anyone know anything about the movie, Virgin Sacrifice? One of the girls at the beginning looks like Andrea True.
The kids of today have spoken and, in 2007, the kids wanted psychedelia! Of course that's finer than a frog's hair, as far as I'm concerned - especially when the current psychedelic underground has maintained such a high batting average.
Daniel Higgs, (Left) former singer for the post punk band, Lungfish, has become a prolific prophet of the psychedelic drone, issuing at least three LPs and a cassette within the last two years. Higgs uses a folkish arsenal of guitar, banjo, harmonium and jews harp to make ancient seeming modern music, heavily indebted to Tuvan folk song and the Eastern-tinged guitar odysseys of Sandy Bull. Essential stuff for seekers of transcendence through music.
Aluk Todolo is a new band who, on their debut seven inch and first album, Descention," explore an odd and uncharted territory between haunting psychedelic improv and Man Is the Bastard style grindcore noise. The effect of their atmospheric, lo-fi is not unlike the music Quicksilver Messenger Service might have played had they been locked up in Mortiis's basement dungeon for five years.
More languid psychedelic delights are offered by Japanese masters Suishou No Fune, who's dreamy take on the legacy of Les Rallizes Denudes yields sublime results on their 2007 cassette release, I Throw a Stone Into the Endless Depths.
...oh yeah, and Rockstar is the shit.
LOUISVILLE PUNK ROCK
On three nights in December, 2007, Louisville, KY radio station WFPK ran a "Radio History" of the that city's early punk rock scene. Centering on the years 1978-1982, researcher Marion Dries interviewed members of such early groups as the Babylon Dance Band, No Fun, The Blinders, Malignant Growth, and others - and played a lot for great old records. The station's online blurb for the show say it all: "For years Louisville has been known as an original music Mecca. But before there were hard-edged acts like Kinghorse, Squirrel Bait and Slint, there were the original Louisville Punk bands: groups like The Blinders, The Endtables and The Babylon Dance Band rocked the River City."
The series makes me feel like a fossil - after all, you're an old man when Public Radio or Television start running documentaries on the pop culture of your youth. Still, it's about time somebody documentated such an important period in such an important place, and I'm ultimately glad these whippersnappers are up to the task.
Click here for the station's audio archive for the series, which features all three installments in MP3 format.