Psychedelic Drone and Noise
"Melody does not exist at all unless one is forced to hear the movement from group to group of various simultaneously sounded frequencies derived from the overtone series as melodic because of previous musical conditioning. . . . It lasts forever and cannot have begun but is taken up again from time to time until it lasts forever as continuous sound in Dream Houses where many musicians and students will live and execute a musical work." La Monte Young, 1964
John Cale, Tony Conrad, Angus MacLise, La Monte Young, Marian Zazeela - INSIDE THE DREAM SYNDICATE VOLUME 1: DAY OF NIAGRA
Terry Riley - POPPY NOGOOD AND THE PHANTOM BAND "ALL NIGHT FLIGHT" Vol. 1
Angus Maclise - INVASION OF THUNDERBOLT PAGODA / BRAIN DAMAGE IN OKLAHOMA (click here for Rene van der Voort article)
Midheaven's Angus Maclise Virtual Shrine
Musica Elettronica Viva (MEV) - LEAVE THE CITY
Hapshash & the Coloured Coat Featuring the Human Host and the Heavy Metal Kids
Six Organs of Admittance -"Manifestation 12" (click here for site_
Kawabata Makoto - INFINITE LOVE
Drugged Out Bliss
Spacemen 3 - THE PERFECT PRESCRIPTION
The Brian Jonestown Massacre - "She Made Me" / "Evergreen" 7"
Krozier and the Generator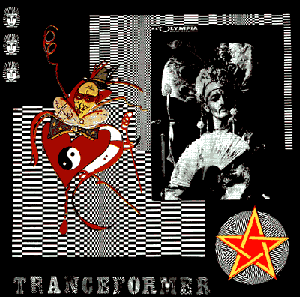 TRANCEFORMER, the brainchild of Australian occultist and magician, Geoff Krozier, is one of the wierdest albums ever cut to vinyl. Unlike most psychedelicized mystics, who take a benevolent, new-age approach to spirituality, Krozier is an old fashioned, slit-those-Christians'-throats kind of guy. Over the course of this two record set, Krozier raps his magickal philosophies, prophesies, and curses atop the Rainbow Generator's space-rock jams in a most disconcerting manner, sounding at times like Genesis P-Orridge's even more maladjusted kid brother, reading the excerpts of his therapy journal he kept away from "share group." The hand-written liner notes are some creepy shite too. The REAL "Satanic Majesty's Request"
TRANCEFORMER at Mutant Sounds Blog
Yahowha 13, Yodship and the Savage Sons of Yahowha
The Source is a religious group based around the life and teachings of Jim Baker, a Korean War hero who, during the late 1960's, adopted the name, Father Yod, and opened a health food restaurant in Southern California. The young people who operated the restaurant with him formed the nucleus of his communal flock.
Many of Yod's followers were musicians, and the Source family recorded numerous albums throughout the early seventies, under such names as Yahowha 13, Yodship, and the Savage Sons of Yahowha. These albums were ceremonial jams; deeply psychedelic ritual music that served an important function in the spiritual life of the Source. As such, they are vital artifacts of their era, of man's eternal quest for spiritual transcendence, and of music as life-art.
Click here for an informative, illustrated discography
Gary Bearman's Ya Ho Wha 13 Interview - 2002 interview with main musicians Sunflower, Djin, Octavius and Pythias. An essential oral history of the Source.
Yahowha.org - Website of the Source Foundation -Keepers of the Flame
Pearls Before Swine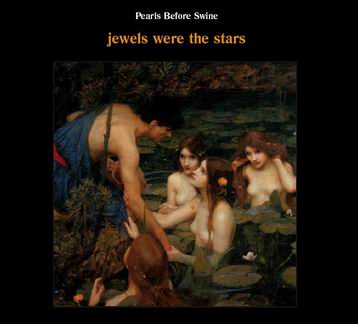 Pearls Before Swine were a little known, but still influential band formed around singer, guitarist and songwriter Tom Rapp. During the late 1960's, the band were pioneers of what has since become known as acid, or stoner folk. Their first album, ONE NATION UNDERGROUND, mixes a few upbeat pop numbers with several more abstract pieces, which flow together like some sort of lost, Atlantian ritual music. Their second album, BAKLAVA, dispenses with standard pop altogether in favor of ghostly, evocative folk ballads punctuated by found recordings and other invocations of the distant past. After recording these two masterpieces for the ESP label, Rapp and company went to Reprise Records, where they recorded several other interesting, if lesser, albums before disbanding in the early 1970's.
Click here for RockMuse.com's Pearls Before Swine Page
"Perfect Sound Forever" Article on Tom Rapp and the origins of Pearls Before Swine
Forced Exposure's Pearls Before Swine page
Gong
"Daevid Allen and Gilli Smith have been the primary (but not sole) movers of the Gong phenomena. Both have done solo work, Daevid's being a bit more extensive. Daevid's music is most easily characterizable as "unpredictable" perhaps because they have really disconnected from "normal" causality into some "other" logic. Early '70s gong was doing the progressive rock thing (they are all amazing musicians), sort of like King Crimson on 10 doses of acid. But they have never felt constrained to any particular style, so any given album may contain everything from chants to jazz to folk to almost punk to eno-esque music, with lyrics tending to be about invisible and/or green flying teapots, or some such thing. Truly a unique experience. They are still putting out stuff on a variety of indie labels (info available from GAS). Lots of people have been involved across the ages, including (around 1976) Bill Bruford. There have probably been about 100 or so personnel changes, and as many as 3 bands called Gong at the same time. (mojzes@monet.vill.edu)"
Planet Gong - the official website
Ritchie Unterberger's interview with Daevid Allen

13th Floor Elevators
"Since Aristotle, man has organized his knowledge vertically in separate and unrelated groups -- Science, Religion, Sex, Relaxation, Work etc. The main emphasis in his language, his system of storing knowledge, has been on the identification of objects rather than on the relationships between objects. He is now forced to use his tools of reasoning separately and for one situation at a time. Had man been able to see past this hypnotic way of thinking, to distrust it (as did Einstein), and to resystematize his knowledge so that it would all be related horizontally, he would now enjoy the perfect sanity which comes from being able to deal with his life in its entirety.

Recently, it has become possible for man to chemically alter his mental state and thus alter his point of view (that is, his own basic relation with the outside world which determines how he stores his information). He can restructure his thinking and change his language so that his thoughts bear more relation to his life and his problems, therefore approaching them more sanely.

It is this quest for pure sanity that forms the basis of the songs on this album."

--Quote from the liner notes of The Psychedelic Sounds of The 13th Floor Elevators
13th Floor Elevators Discography
Misc. Recordings of Interest
Ruth White - FLOWERS OF EVIL / TRUMPS FROM THE TAROT CARD AND PINIONS
The West Coast Pop Art Experimental Band - "The Smell of Incense" (Video)
The Third Bardo - "I'm Five Years Ahead of My Time" (the spaciest garage rock ever conceived) (Video)
Ghost - TURN ON, TUNE IN, FREE TIBET

Keith Jarrett - SPHERES (hymns, drones and entrancing note clusters played on a centuries old German pipe organ)

Sonic Youth - "Hits of Sunshine (For Allen Ginsberg" ) (from 1,000 LEAVES)

Animal Collective - "The Softest Voice" from SUNG TONGS

Lichens: THE PSYCHIC NATURE OF BEING
White Magic - "Don't Need"

Legendary Pink Dots - "Princess Coldheart" 12" (Syd Barret-like dark whimsy)
Bardo Pond - SET AND SETTING ( not the best band, overall, but quite effective when lost in extended wah wah freak out mode)
BRIAN JONES PRESENTS THE MASTER MUSICIANS OF JAJOUKA
Bomb - "Gigi" from TO ELVIS IN HELL (Journey to the Center of a Bad Trip)

V3 - "To Breathe No More" (creepy space keyboard dirge)

Happy Flowers - "Mr. Fuck" (raga from LASTERDAY I WAS BEEN BAD)

Beastie Boys - "Shambala" from ILL COMMUNICATION (Beasties rap about Buddhism over monk chants and bells. AMAZING)

Ammon Duul II - "Hawknose Harlequin" (from CARNIVAL IN BABYLON)

The Smoke - "My Friend Jack" (60's fuzz pop hit)

The Pink Faeries - NEVER NEVER LAND

Tommy Roe - "Paisley Dreams" (Essential, candy-ass psyche-pop cash-in)

Praxis - TRANSMUTATION / Axiom Funk - "If the Six Was Nine"

Laibach - "Across the Universe" (Beatles cover from LET IT BE. Sung by Slovenian girl's choir)

Shagrat LP (Demented hobbit psyche)

Opal - HAPPY NIGHTMARE, BABY (Moody, Doors-like atmospheres and wylde organ/guitar work outs. Evolved into Mazzy Star after this album)

John's Children - "Smashed, Blocked" ( The most insane psyche - pop single ever released.

Pretty Things - SF SORROW (tripping thru the daisies with razor blades glued between your toes.

Sam Gopal - "The Dark Lord" (from ESCULATOR. Dark Raga rock featuring an 18-year-old, pre-Hawkwind Lemmy)

Butthole Surfers - "Cherub" (from PSYCHIC..POWERLESS...) / "Jimi" (from HAIRWAY TO STEVEN)
Taj Mahal Travellers - AUGUST 1974
http://rapidshare.de/files/10933372/taj1.rar
http://rapidshare.de/files/10934396/taj2.rar
Kraftwerk - "Radio Land" from RADIOACTIVITY (Ash Ra Tempel inspired space rock)

The Fugs - "The Garden is Open" from TENDERNESS JUNCTION (Heavy acid guitar bliss from the Reprise period.)


General Links